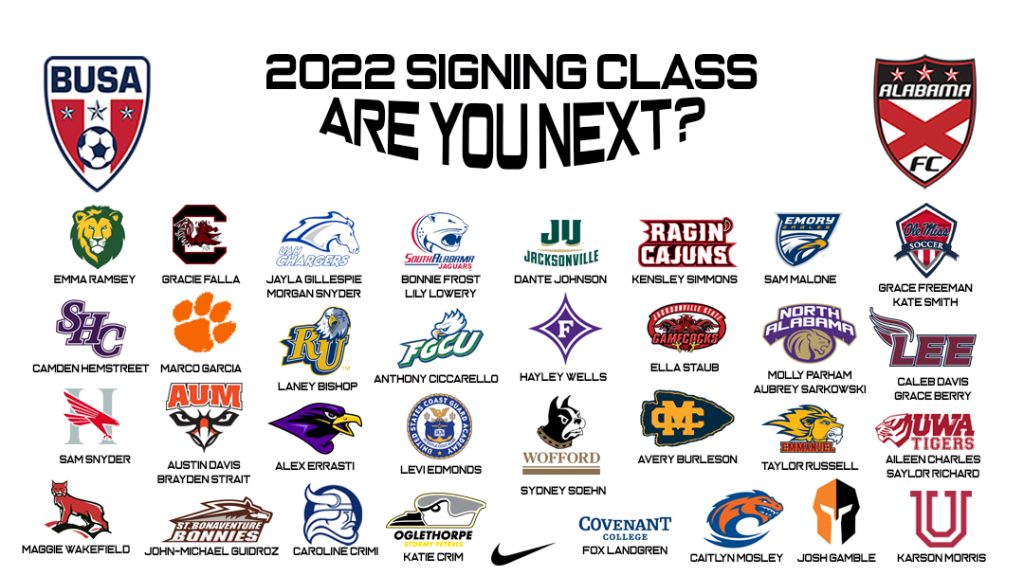 Alabama FC 2022 Recruitment Class
Alabama FC continues to lead the region in college placements!
AFC has placed 131 players into college in the last 3 recruitment cycles with 61 of those going into NCAA Division I. This kind of placement is unmatched across the state and region.
The consistent and sustained success is a testament to the hard work of the Alabama FC staff and players. Alabama FC has the best platform to showcase the player's talents and abilities in leagues like the ECNL, ECRL SCCL, and ASA State league combined with our AFC College Combine, which allows the players plenty of opportunities to have great exposure.
Executive Director Andrew Brower was quoted,"We are so excited to announce the 2022 BUSA/Alabama FC Signing Class.  This class is special to our hearts as they battled and grinded through the COVID years to accomplish their dreams of playing collegiate soccer.  This class embodies all the gifts, traits, and talents we want our players to encompass upon graduation from our programs.   We're thrilled to see them have success and look forward to watching the next chapter in their playing careers.  It is also amazing to see how blessed our club is with such dedicated coaches, directors, players, and parents who we get to watch achieve amazing things each season, and thus it is no accident Alabama FC/BUSA  is the undisputed leader in college placement in the region for over 20 years, with over 1000 kids to 150 different schools playing college soccer!"
Congratulations to a great Class!
Thank you class of 2022 for all the memories and we wish you even better times ahead.