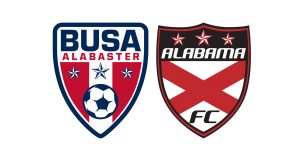 AFC/BUSA is pleased to announce the launch of the AFC/BUSA Alabaster Branch starting with the tryouts and evaluations in May 2019.  We are excited to offer soccer in south-central Shelby County and feel this will be a great endeavor to serve soccer players in this part of the metropolitan area.  We have hired a tremendous staff to serve the Alabaster branch and look forward to exciting development opportunities for the community.
We would like to take this opportunity to welcome you to the Alabaster Staff.
AFC/BUSA Alabaster Director
Brock Vaughn, Alabaster Technical Director   
College & Education
B.S. in Sports Management from Central Methodist University
USSF D License
Coaching Experience
Fox Creek Highschool 2017-2018
Aiken FC 2017-2018
GPS Coastal 2018-2020
USC Beaufort Women's 2018-2020
Bridges Prep. 2018-2020
Ferrum College Men's 2021
AFC Alabaster 2021-Present
Collegiate Playing
Pfeiffer University 2014-2015
Will Patridge, Alabaster Academy Director/ATP Director  
College & Education
M. Ed. University of Montevallo, 2007
B.S. University of Montevallo 2004
Coaching Experience
2015-2021 Birmingham United South Programs Director and Lead Coach
2021-Present Alabama FC Alabaster Lead Coach
2013-2022 Hoover HS Girls Varsity Head Coach
2007-2012 Hoover HS Boys Assistant Coach
Collegiate Athletic Experience
University of Montevallo 2002-2004
Advanced Training Program
Advanced Training Program is a program designed for AFC/BUSA program to register for these extra sessions
AFC/BUSA'S Academy Program provides a developmentally appropriate soccer environment for kids to make optimal developmental gains as soccer players, have fun and return to play soccer next year.
We strive to develop players with mastery of fundamental soccer skills who have a solid foundation of basic soccer decision-making. Accomplishing this goal creates players with the foundation necessary to compete at the next level of play.
The Academy has rolling enrollment throughout the fall and spring so your son or daughter can join at any time. For more information, Contact Alabaster Director of Alabaster Will Patridge at [email protected]
Join our Academy to have your child trained by professionally licensed coaches in an environment created specifically for kids!
2022 EVALUATION UPDATE: 
Academy Evaluation Information: 2014 to 2012
When: May 23rd and 24th (Tentative)
Where: Larry Simmons Stadium –
100 Warrior Drive, Alabaster, Alabama, 35007
U9-U11

$450

Trg Months = 4

2013 - 2011
The AFC/BUSA-Alabaster Competitive Program launched in the Fall of 2019 it will be dedicated in offering players the chance to compete at the highest level, both regionally and nationally; providing a platform to give players the highest quality of training and competition; and encouraging players to participate on state, regional and national teams. In AFC/BUSA Alabasters' first year we won 2 state championships! 
Tryouts, Pricing, and more information will be posted soon.
For Questions, please Contact Director of Coaching Brock Vaughn at [email protected]
2023/24 COMPETITIVE TRYOUTS:
Competitive
When: May 15th and 16th  –  04,05,06,07,08,09,2010 Age Groups (Tentative)
FOR TIMES CLICK HERE
Where: Larry Simmons Stadium –
100 Warrior Drive, Alabaster, Alabama, 35007
Alabaster Signing Day's
TBD
For more information about our Alabaster Program, contact the Director of Alabaster Brock Vaughn at [email protected]
U9-U19

$450

Trg Months = 4

2010 - 2004
The BUSA-Alabaster Recreation Program has just launched in the spring of 2022 
To visit the Alabaster Recreation page please click the link below.
For Questions, please contact Director of Recreation Jim Jeter at [email protected]
Any returning Alabaster player for the spring will receive $50 discount.
SPRING EVALUATIONS
Date – December 12
Location – Larry Simmons
Ages – 2012, 2011, 2010, 2009, 2008, 2007
Times –
10:00 am-11:15am
2012-2010 Boys and Girls
11:30 am- 12:45pm
2009-2007 Boys and Girls
For Spring 2023 Academy Teams Please Click Register above or Contact
Will Patridge – Email: [email protected]
Andrew Brower – AFC/BUSA Executive Director of Coaching
Office Phone: 205-977-9038
Email: [email protected]