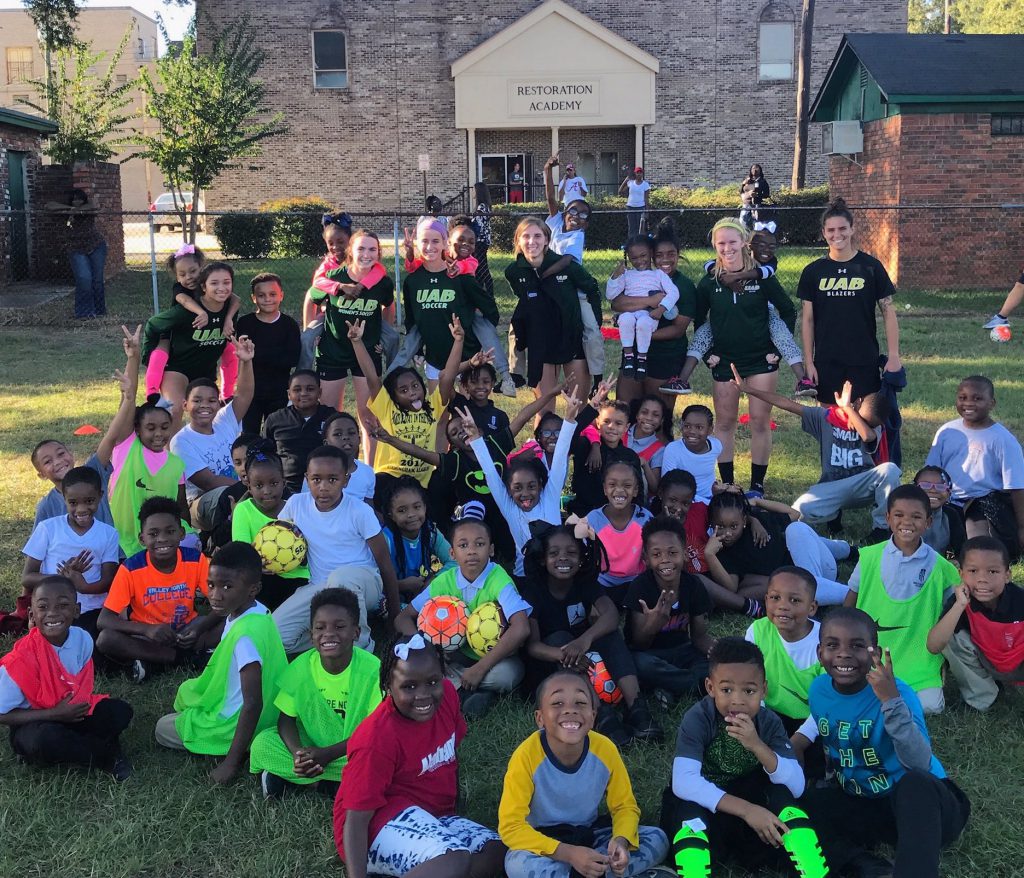 Look at the smiles on those faces.
If a picture's worth a thousand words, that snapshot tells the story. Opening doors works. Taking soccer to places it might not otherwise go works. Introducing the beautiful game to students eager for the experience works – for everyone involved.
BUSA's Oct. 24th training session for elementary students at Restoration Academy in Fairfield, this time with the generous assistance of the UAB women's soccer team, was just the latest example of a successful partnership.
"BUSA has loved the relationship with Restoration Academy," said Andrew Brower, executive director of the Birmingham United Soccer Association. "They, as a school, are a beacon of light for their students and parents, and we are grateful to partner with the school as we share so many similar values."
BUSA's twin passions for growing the game of soccer and giving back to the community have found a perfect home in its Restoration Academy program. Now in its sixth year, the program includes 4-5 training sessions in the fall, followed by team and league play in the spring. About 60 elementary students from Restoration Academy participate each season.
Local college teams such as UAB and Birmingham-Southern often step up to assist the BUSA staff in running the training sessions, planting the seed that excellence in school and in soccer can lead to a college scholarship. BUSA also has helped launch a high school soccer program at Restoration Academy, Brower said, "and this was a great blessing for the older kids who have aged out of our younger-age programs."
Brower said he's thankful for sponsors such as Medical Properties Trust "who help us run and support these wonderful outreach programs and allow us to grow soccer in areas where the game does not have as much of a presence as it should."
Soccer's presence at Restoration Academy continues to grow – one smile at a time.