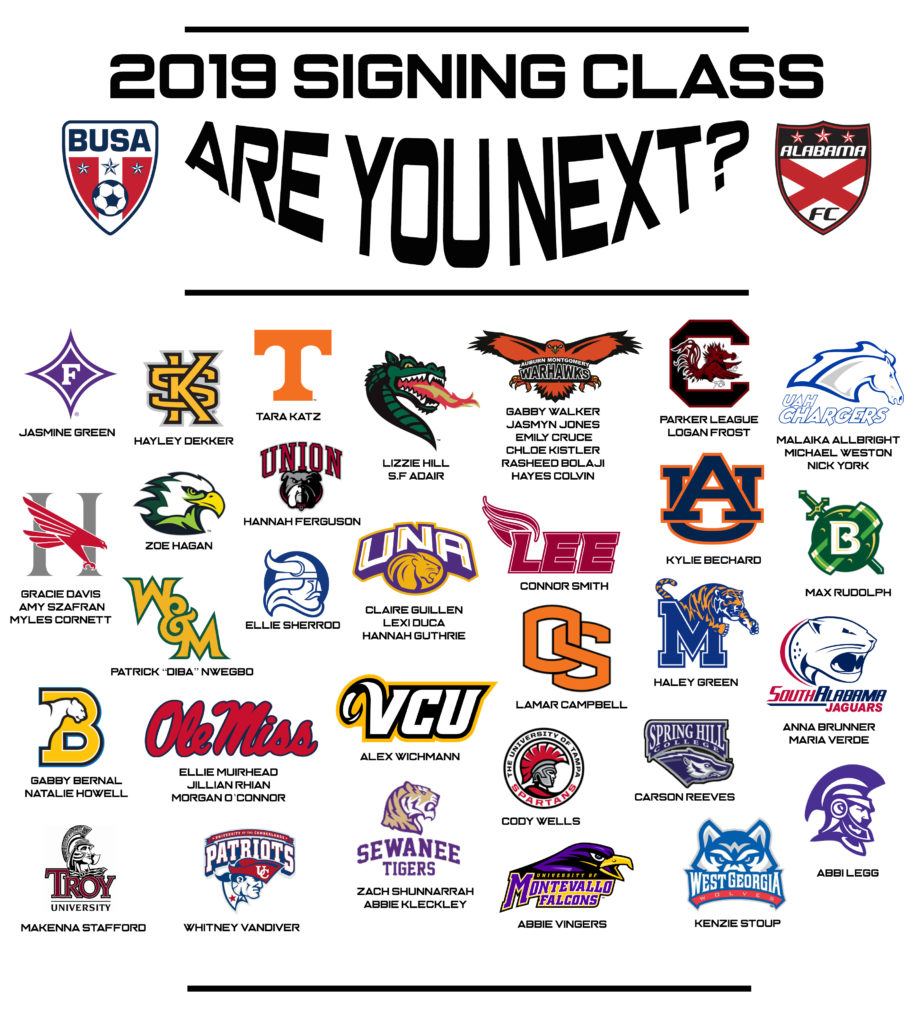 BUSA and Alabama FC are thrilled to announce our 2019 College Signing Class! These student-athletes are an excellent representation of our organization and have put in thousands of hours of dedication to reach this point in their soccer careers.  We are happy for their soccer accomplishments but are more proud of the ambassadors they have become as teammates, leaders, and student-athletes.
So, congratulations class of 2019! We are excited to watch as you embark on your college journeys. You have embodied our mission statement of Empower, Enrich and Excel and deserve our praise and support.
Click here for a complete list, 2007-2021, of our college signees and alumni recruiting classes.
2019 Collegiate Signing Class
Walker, Gabby – Auburn University at Montgomery
Allbright, Malaika – University of Alabama Huntsville
Vandiver, Whitney – University of the Cumberlands
Muirhead, Ellie – Ole Miss
Hill, Lizzie – UAB
Adair, S.F. – UAB
Bechard, Kylie – Auburn
Brunner, Anna – South Alabama
Campbell, Lamar – Oregon State
Green, Haley – Memphis
Green, Jasmine – Furman
Rhian, Jillian – Ole Miss
Katz, Tara – University of Tennessee
Guillen, Claire – University of North Alabama
Duca, Lexi – University of North Alabama
Verde, Maria – South Alabama
Dekker, Hayley – Kennesaw State
Stafford, Makenna – Troy
Davis, Gracie- Huntington
Reeves, Carson- Spring Hill
Legg, Abbi- Trevecca Nazarene
Stoup, Kenzie – West Georgia
Jones, Jasmyn – Auburn Montgomery
Cruce, Emily – Auburn Montgomery
Vingers, Abbie – University of Montevallo
League, Parker – University of South Carolina
Weston, Michael – University of Alabama Huntsville
Frost, Logan – University of South Carolina
Ferguson, Hannah – Union University
Bernal, Gabby – Birmingham Southern College
Szafran, Amy – Huntingdon College
York, Nick – University of Alabama Huntsville
Wichmann, Alex – Virginia Commonwealth University
Wells, Cody – University of Tampa
Smith. Connor – Lee University
Sherrod, Ellie – Berry College
Nwegbo, Patrick "DIBA" – William and Mary
Kistler, Chloe – Auburn University at Montgomery
Bolaji, Rasheed – Auburn University at Montgomery
Colvin, Hayes – Auburn University at Montgomery
O'Connor, Morgan – Ole Miss
Rudolph, Max – Belhaven
Shunnarrah, Zach – Sewanee
Kleckley, Abbie – Sewanee
Guthrie, Hannah – North Alabama
Hagan, Zoe – Life University
Howell, Natalie – Birmingham Southern College
Cornett, Myles – Huntingdon College