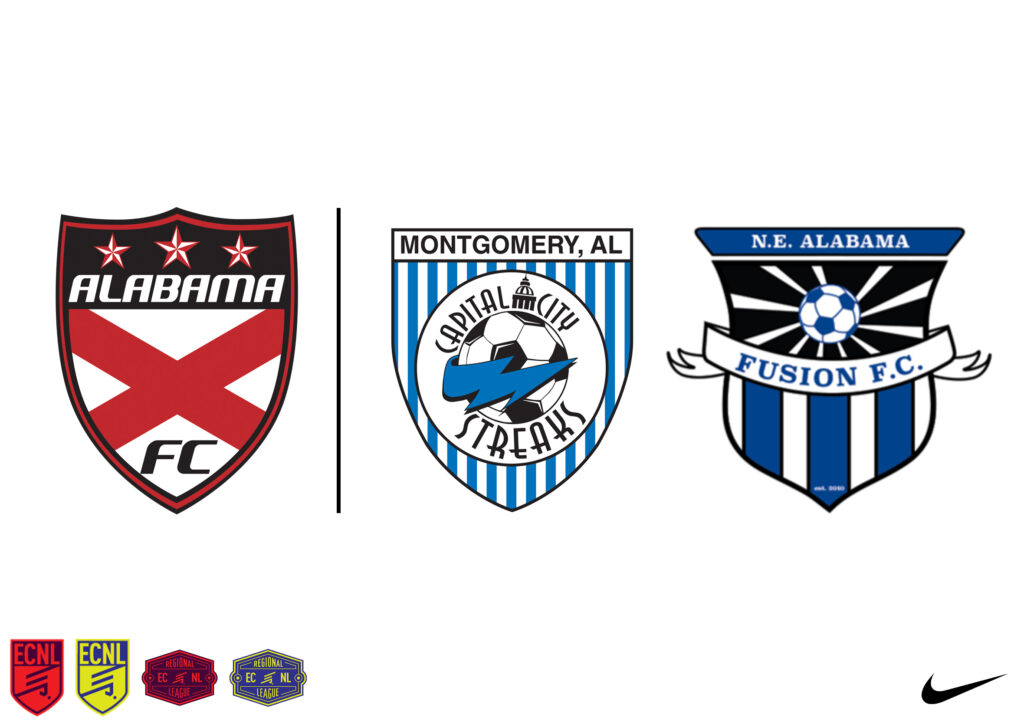 Alabama FC is Taking it to Another Level!
BUSA, Capital City Streaks, and Fusion FC Join Forces Under the Alabama FC Banner to Raise the Level of Soccer in Alabama!
May 5th, 2021,
BUSA, Capital City Streaks, and Fusion FC, announce plans to form a deeper relationship to best serve all players in Alabama.  Starting in May of 2021, and continuing on-going integration for the next 12 months, the three clubs will be working collectively to advance the soccer landscape in Alabama.  All teams in each respective club will be re-branded under the Alabama FC name and plan to all wear the same uniforms by the Fall of 2022.  All club teams will synonymously be registered in one central registration house to allow for more player development opportunities and thus more chances to best serve players in different parts of Alabama.    We plan to add several more clubs in the next year under the Alabama FC banner, and look forward to continuing to empower soccer players in Alabama for the next generation by working together for a common goal.
Alabama FC Central= BUSA
Alabama FC South= Capital City Streaks
Alabama FC East= Fusion FC
YMCA of Greater Montgomery Vice President and Capital City Streaks Director, Manny Sanchez was quoted, "We are thrilled to announce that we are bringing the "proven pathway" to the next level to Montgomery.  Alabama FC South will be replacing the Capital City Streaks Club moving forward.  We are definitely taking it to another level becoming part of the Alabama FC Family.  This strategic partnership will allow our players to have unique opportunities to continue to develop and play at the most competitive levels in our country. We share many common values and philosophies that without a doubt will help us better serve our players and families. We can continue not only to develop our players by creating different training and competitive environments, but also by growing the game in Alabama. This is definitely an exciting day for the River Region, our club, players and coaches".
BUSA Executive Director Andrew Brower was quoted," It is exciting to see deeper roots being planted within Alabama FC, with the sole intent being able to serve the players in these three clubs more effectively.  The demands of playing in the best leagues in the country require and demand deeper player pools and we are excited to be able to work with the Fusion and Streaks, to continue to raise the standard of excellence by sharing resources and being collective working together.  We have long enjoyed our relationships with the Fusion and Streaks and excited to see us take it to another level starting with this upcoming tryout cycle."
Fusion FC Director of Coaching Jeremiah Massa, "Fusion FC is proud to be a part of a growing program to help give more opportunities, and a developmental pathway for the players and coaches in East Alabama to achieve their highest potential. This will open doors for those who before would not have the opportunity to play at the highest levels of soccer with the ECNL and ECRL.   We are excited about the opportunity to continue to grow and develop the players coaches and parents at a elite level in the beautiful game."
Please direct any questions to the following contacts at each branch:
Alabama FC Central/BUSA- Ben Park-  [email protected]
Alabama FC South/Capital City Streaks- Manny Sanchez- [email protected]
Alabama FC East/Fusion FC- Jeremiah Massa- [email protected]>
1. In next year's structure with Alabama FC, will the training and game locations be any different?
-Training locations will stay the same. Game locations will take place at Rathmell, Sportsblast, or Larry Simmons
2. Will the Alabama FC Central teams (ECNL, ECRL, SCCL, Competitive,
and Academy) purchase new uniforms in the soccer year 2021?
-No, the kits will stay the same. The club admin will create an orderly and clear process to re-screen match day kits to Alabama FC logos before the fall season. More information in regards to re-screening will be available shortly.
3. What level of play will be provided for Alabama FC Central?.
AFC will provide ECNL and ECRL teams in ages 13-19. AFC will also provide ASA State league first division teams(Premier) and second division teams(Select) in ages 12-19. The program will also provide SCCL teams in select age groups. The club will select placement of ASA teams based on team formation.
AFC Central will play out of Rathmell Soccer Park, AFC Alabaster will play out of Larry Simmons in Alabaster, and AFC Central South will play out of Sportsblast.
AFC will also provide Academy (Ages 9-11) at all locations mentioned above within the Birmingham area.