BUSA Helping Off The Field.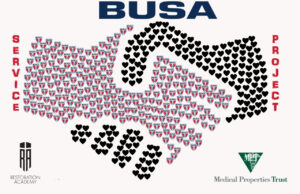 BUSA players across the Academy, Competitive, and ECNL teams donated over $35,000 worth of school supplies items for the annual BUSA Serves Day project
Andrew Brower, Executive Director of Birmingham United Soccer Association. "We were very thrilled with the positive impact our BUSA membership made to serve others coming out of a global pandemic in the annual BUSA SERVES Day Project.  It is amazing to see so many wonderful members donate their time, money, and resources to serve others.  The students and leadership team at Restoration Academy are so thrilled to see BUSA impact their kids in such a positive manner and on behalf of the BUSA Leadership Team, we thank you for your support."
As BUSA moves into their fall season, their work this summer has considerably strengthened the foundation of the club.
"BUSA Serves Day is a great reminder that one of the main goals of BUSA is to impact those around us so that we can leave our mark into making our community a better place."