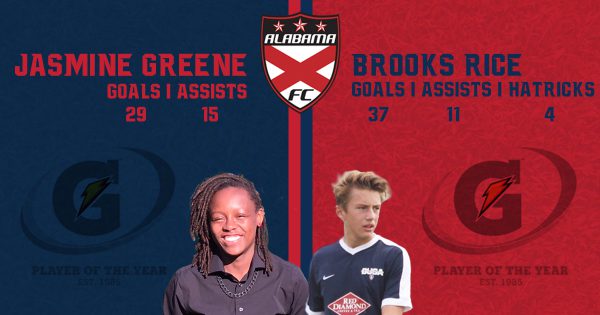 What do Jasmine Greene and Brooks Rice have in common?
The Spain Park High School athletes swept the 2017-18 Gatorade Soccer Player of the Year honors for the state of Alabama, Greene winning the girls' award and Rice capturing the boys' recognition.
Both decorated student-athletes also have roots in the Birmingham United Soccer Association. BUSA is the largest soccer organization in Alabama and one of the largest in the Southeast.
"BUSA is thrilled for Jasmine and Brooks to be recognized as male and female Gatorade Player of the Year Award winners," said BUSA Executive Director Andrew Brower. "Both of these young people have been the quintessence of excellence throughout their BUSA playing careers."
Greene, a rising senior at Spain Park, has played with BUSA for the last 3 ½ years. She's a member of the 01 ECNL Girls team. For Spain Park this season, she scored 29 goals and added 15 assists. She has verbally committed to play college soccer at Furman University starting in the fall of 2019.
"She is a tremendous athlete and an even better person off the field," Brower said. "While she is quiet off the field, her ability to score tons and tons of goals speaks volumes."
Rice, a recent Spain Park graduate, has been a lifelong BUSA athlete who's played with the 00 ECNL Boys team. He scored 37 goals and added 11 assists this season for Spain Park, finishing his high school career with 84 goals. He's signed a National Letter of Intent to play at the University of North Carolina at Greensboro starting this fall.
"Brooks started out playing with BUSA at 6, 7 years old and has progressed all the way through the organization," Brower said. "He is very technical and polished on the ball and possesses an uncanny knack for creativity in the attack. Brooks also helps as a volunteer coach within our organization and was a great resource for our younger players."
The Gatorade Player of the Year awards recognize not only athletic excellence but also high standards of academic achievement and exemplary character on and off the field.
Greene, who has a weighted 4.11 GPA, has volunteered locally helping to organize and distribute gift bags to Children's of Alabama patients and has donated her time as part of multiple community-service initiatives through her church.
Rice, who earned a 3.29 GPA, has given back to BUSA and the soccer community by volunteering as a youth coach and referee and has donated his time to multiple community-service initiatives through his church.
As a Gatorade Player of the Year, Greene and Rice will be able to select a national or local youth sports organization to receive a grant as part of the Gatorade Play It Forward program. Every Gatorade Player of the Year state winner receives a $1,000 grant to donate and will have the opportunity to enter for an additional $10,000 spotlight grant by writing a brief essay explaining why their selected organization deserves additional support.