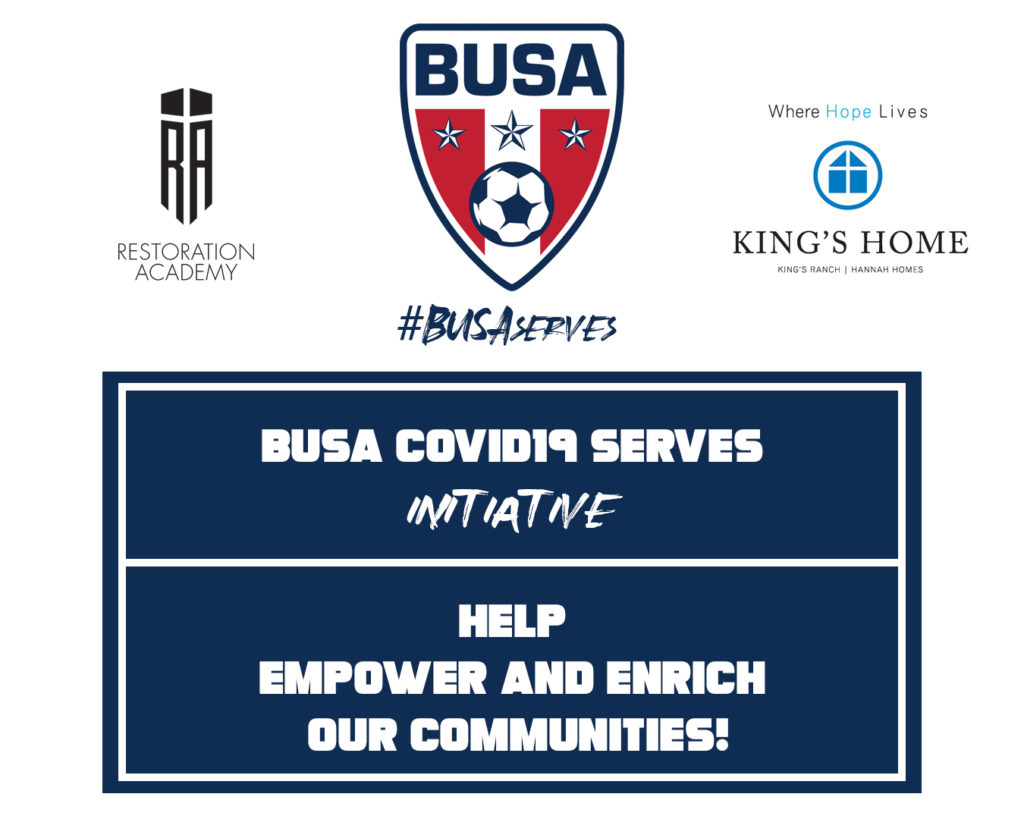 BUSA Members,
We hope each of you are navigating through these difficult circumstances with the affects of the Covid-19 virus.  As we trek through the next few weeks we wanted to create some initiatives for our membership that create positive impacts in our community.  When we deal with difficult situations, I have always felt led and called to serve others; to somewhat flip the script on doom and gloom to create an atmosphere of hope and love.  To that end, we are launching a 3 week initiative to help empower and enrich our communities!
Giving Tuesdays-
BUSA is a 501-C-3 non-profit as are two groups we work with and support during the calendar year in Restoration Academy and the King's Home.  All three of these organizations provide great hope for those that are in need.  With your donation to BUSA we will give a split percentage of those donations to empower students at Restoration Academy in Fairfield and a percentage of donations to King's Home to help provide daily services to the ranch that supports adolescents who have been abandoned by their parents.  During this economic crunch, non-profits are hit hard as they rely on donations to keep the doors open, and the light on, help us, help them by making any small donation to the Paypal link:   Click Here
Serving Wednesdays-
Each Wednesday we want to see your impact in your neighborhood and in your community. Even with the social distancing, there are a myriad of ways we can help make the world a better place.  Below are some examples of how we want to see you serve: Yard work for a neighbor or elderly person, picking up trash (with gloves), writing letters to nursing homes, calling nursing homes to speak with patients, washing your neighbor's car.  These are are just a few ways we want to see you in your BUSA or Alabama FC Shirt on the next 3 Wednesdays serving others.
Supporting Thursdays-
Our Community businesses, restaurants, and shops need our support during the downturn.  We encourage and urge you to order take-out, pick-up, buy a gift card, make an online order to the businesses, shops and restaurants you would usually support with your business.  We encourage you to think of local businesses but also support our sponsors: Taziki's, Martin's BBQ, Soccer.com,  Soccer Post, Soccer Locker, Red Diamond, Pepsi/Buffalo Rock, Servis1st Bank, Dick's Sporting Goods.
We want to see your pictures in your BUSA or Alabama FC Gear on each iniative.   It could be a player donating $5.00, a player cutting their neighbors grass or you and your family in your BUSA shirts supporting local businesses.  Send pictures to [email protected] and tag social hashtage #BUSAserves
We will select weekly winners for each week and be sending them gift cards.
In closing, we hope that you use this time to define who you are and what your family stands for, and it is our hope that as BUSA members we dominate GIVING, SERVING, and SUPPORTING like we dominate the opposition on the soccer field.  Defeat COVID-19!
Stay Strong,
Andrew Brower
Executive Director
Birmingham United Soccer Association
"Empower, Enrich and Excel"