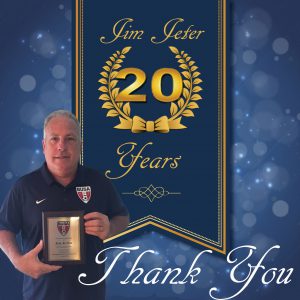 Jim Jeter – Thank you for 20 years!
BUSA is proud to honor longtime employee Jim Jeter for 20 years of loyal service to BUSA. Jim started in 1998 with the American Jets Soccer Club, which merged to become BUSA in 2006. While Jim currently serves as the Recreational and Facility Director for BUSA, he has worn many hats over the past two decades and has been a vital part of the growth of soccer in central Alabama.
Executive Director Andrew Brower said the following about Jim: "Jim Jeter is synonymous with soccer in Birmingham. He has been a staple of excellence in our club and community the past two decades, and we were so happy to surprise him with an event that was solely for him. Jim has been a great friend to me personally but an even better ambassador for our organization and soccer in Birmingham. He does countless things behind the scenes that often go unnoticed and has been a staple of consistency and loyalty for Birmingham United. Kudos to Jim, his wife, Lynn, and three children Jay, Sydney and Chad – who are all former BUSA players – on a great 20 years!"
Wednesday night the BUSA Staff held a surprise party for Jim at Paramount with his colleagues and family in attendance to honor him for 20 wonderful years. Thanks for all you do!