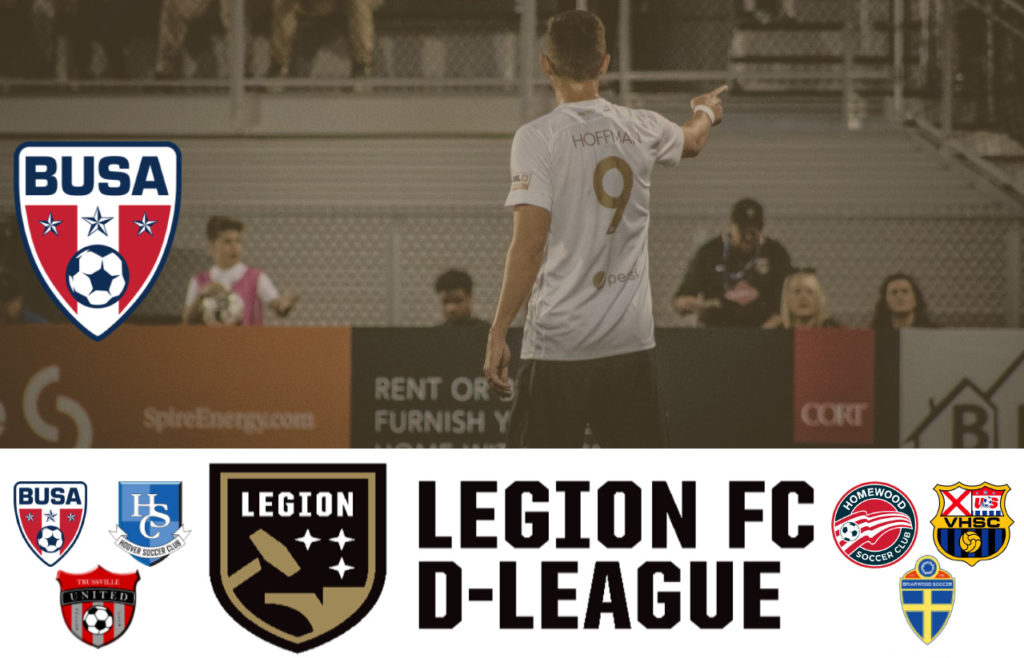 BUSA's Academy is a founding member of the new Legion Developmental League.
Legion FC to sponsor developmental youth soccer league
Legion FC D-League merges six local youth clubs, addresses key developmental need for boys and girls
BIRMINGHAM, AL (May 6, 2019) – Birmingham Legion FC today announced the formation of the Legion FC D-League, a developmental youth soccer league for boys and girls. The league joins boys and girls teams playing in U9, U10, and U11 divisions from six local youth clubs (Birmingham United Soccer Association, Briarwood Soccer Club, Homewood Soccer Club, Hoover Soccer Club, Trussville United Soccer Club, and Vestavia Hills Soccer Club) and begin to play in the Fall of 2019.
"Our club is fully committed to the growth of the game and the development of young players," said Legion FC President and General Manager Jay Heaps. "We identified this developmental league as a great opportunity to play a part in their competitive growth. Through this program, we will participate in their improvement and we hope to inspire the young talent throughout the region."
The Legion FC D-League starts September 7, with Saturday morning games played between t, he clubs through November 2. Individual clubs will train on their own, scheduling additional matches and tournaments to fit their vision for development. Legion FC coaches and players will also be made available to assist in the development of soccer curriculum, coaching education, clinics, and promotional appearances.
Initial evaluations will be scheduled by the six-member clubs. Participating players, boys and girls, will be provided a season pass to Birmingham Legion FC home games. All uniforms will be adorned with a Legion FC badge.
For more information, visit www.legionfcdleague.com
About Birmingham Legion FC
As an expansion member of the USL Championship, Birmingham Legion FC is the Magic City's first and only locally owned and operated professional soccer franchise. The club plays home matches at a newly renovated BBVA Compass Field, on the campus of the University of Alabama at Birmingham. For ticket information and to purchase official Legion FC merchandise, please visit bhmlegion.com. Supporters are encouraged to download the Legion FC app and follow @bhmlegion on Facebook, Instagram, and Twitter for the latest club news.