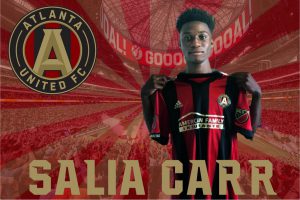 The next step in Salia Carr's journey as a soccer player is a big one. The 16-year-old from Mobile is joining the Atlanta United Academy program, where he'll play with the U-17 team.
For the next two years, Carr will train and compete out of the Children's Healthcare of Atlanta Training Ground, which the academy program shares with Atlanta United's MLS first team.
"Salia is a good, honest, hard-working defender who has some great traits that will take him far in the game," said Tony Annan, Atlanta United Academy director. "We are very pleased to have him join Atlanta United Academy and excited to see how he progresses over the next 2 years."
Carr, who lives in Mobile and attends McGill-Toolen High School, moved to the United States from Sierra Leone when he was 2 years old "as a refugee," he said, "because of the war in my country." He started playing soccer at age 8. For the last two years, he's played with Birmingham United Soccer Association's Alabama FC.
"Alabama FC has provided better competition than I've had before," Carr said, "and it's helped me get exposure to top coaches."
Ben Parks, BUSA's director of coaching, is excited about Carr's opportunity with the Atlanta United Academy.
"Alabama FC and Birmingham United are so proud of Salia Carr," Parks said. "Not only is Atlanta United getting a gem of a player, but they are getting a fine young man as well. Salia is the rare combination of athleticism and soccer acumen. These gifts will serve him well as he continues to develop with Atlanta United. We wish him well as he embodies what Birmingham United and Alabama FC are all about."
Officially launched in 2016 prior to its first season in MLS, the Atlanta United Academy system provides a clear pathway for homegrown players who show the required potential, ability and desire to reach the first team. The program also assists athletes in pursuing opportunities to play soccer at top U.S. colleges. Home to comprehensive and modern coaching, sports science, athletic and medical departments, the Atlanta United Academy strives to be the premier soccer club locally, regionally and nationally.
"BUSA and Alabama FC are again proud to promote another player to the MLS Academy Programs," said BUSA Executive Director Andrew Brower. "We believe Salia will serve Atlanta United with excellence."